Suez (WCS) UK Water interests and assets acquired by WCS Group
---
WCS Group, the water treatment division ofMarlowe plc's (parent) critical services group, has acquired the commercial water treatment, hygiene and Legionella testing, safety and compliance interests and assets of Suez Water Conditioning Services (WCS) UK. WCS Group is now the No.1 UK water treatment and engineering support business with circa £40 million annualised revenue.
The acquisition of Suez (WCS) UK Water interests and related assets incorporating B&V Water and Sentinel Water means that all circa 172 staff operating nationally, and from the Daventry and Upminster offices, will transfer across to WCS Group. Customers will be seeing the same faces working through local regional teams on sites they know well. Going forward, customers have access to a far larger team, deeper technical knowledge and dedicated sector water professionals.
WCS Group's Water CEO Phil Greenwood said, "Carving out the commercial water treatment and hygiene work from Suez (WCS) UK Water is a great strategic fit for us. This is high quality water treatment and comprehensive water hygiene work. We have highly complementary customers in key markets such as manufacturing, Food & Beverage, Healthcare, Industrial and the important FM market where we act as preferred suppliers of critical water services. The business units we have acquired, share the same ethos – outstanding water treatment, system control improvement for water systems and process management, water lifecycle management, legionella ACoP L8 safety and compliance, training and engineering support. We will be focusing this more closely than ever before in a collaborative strategy with service delivery for customers".
The Own Label chemical manufacturing business will be re-branded as B&V Chemicals and run as a separate, standalone unit with greater independence than ever before. It will continue to supply a full range of water treatment chemicals to resellers.
Our water division today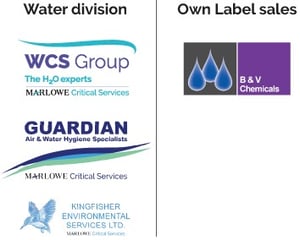 Our water division comprises four brands.
We are a critical services specialist focused on just one thing – water. We provide water treatment and control improvement for water systems and process management, water lifecycle management, Legionella safety and control, AcoP L8 compliance, training, remote monitoring, water hygiene services, air hygiene and specialist engineering support. We also blend, manufacture and supply specialist chemicals.
Benefits
We facilitate new and better water treatment and process control improvements, outstanding system risk management and processes to monitor and protect against scale, corrosion and bacteria which can impact plant reliability, performance and running costs over time.
We ensure uncompromised compliance with ACoP L8, cooling tower and evaporative condenser regulations, HT04-01, closed heating and chiller system guidelines and swimming pool guidelines, environmental standards including discharge and Regional Protection Zones.
Read more about WCS Group Water Treatment Services
Topics: Water Treatment & Hygiene, Company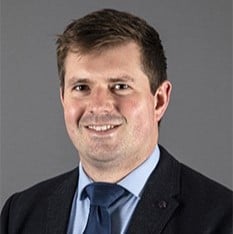 Jon has progressively worked through operational roles, account management, technical management, and senior management roles over the last 16 years within one of the group companies before moving into the role of Water and Air Managing Director. Jon has experience across multiple sectors of water and air compliance, including district energy networks; data centres; healthcare; food and beverage and facilities management. Jon acted as a corresponding steering committee member on CIBSE CP1 – Heat Networks Code of Practice for the UK released in 2020.