How a trade effluent audit can improve water efficiency
---
Temperatures reached 40.3 degrees Celsius in the UK in July 2022. The summer heatwave prompted the UK Drought Group to meet and discuss how to address the hot weather. If a drought is declared, farmers could be banned from watering their crops, threatening the autumn harvest. The extreme heat is predicted to continue in the future as the effects of climate change become more pronounced. And this is not just happening in the UK: Cape Town nearly ran out of water this year.
This means we all have a duty to use water more responsibly. Public and private businesses have a role to play in reporting and reducing their water footprint. The world's largest 2,025 companies have made a start, with a quarter reporting the benefits of implementing water efficiency measures. However, every business could benefit from improving its water efficiency for several important reasons.
Stay ahead of future regulations
There are no current regulations stipulating that companies must use circular water management practices such as reusing and recycling water. However, climate change, population growth, and tighter ESG standards will likely result in strict future legislation.
There are two ways businesses can address this changing environment, proactively preempting regulations or waiting and reactively implementing measures. Those who take the first option are likely to fare better.
Improve your reputation and make savings
There is no question that the public's attitude towards environmental concerns is changing. Today, companies must actively show they are improving their environmental credentials. Not doing so can result in reputational damages and a decrease in consumer loyalty. However, having a strategy in place to report on and improve their water management can help companies mitigate reputational risks and improve their reputation.
Implementing water efficiency measures will save businesses money by identifying possibilities for operational improvements. The key is to make smart investments that lead to long-term cost savings. For example, in India, Diageo has implemented water recycling systems that will enable it to reuse up to 500,000 cubic metres of water a year—enough to fill 200 Olympic swimming pools—and a 35% reduction in water extraction.
The drinks company even went further to publish a 'water blueprint', which plans to improve water efficiency by 50%, return 100% of wastewater to the environment safely, implement clean water and sanitation projects in water-stressed areas, and replenish the areas with the equivalent amount of water it uses. Not only will this save the company money, but it will also have an extremely positive impact on its corporate reputation.
What is water efficiency?
Water efficiency could refer to a range of measures, including simple ones such as turning the tap off while brushing your teeth. However, whilst these individual efforts are necessary and valiant, businesses should seek to implement circular water management practices with environmental benefits. This is sometimes referred to as the 5Rs approach.
Reduce: reduce water losses to improve water efficiency
Reuse: reuse water after it has been treated
Recycle: recycle wastewater (also known as water reclamation) using machinery and chemicals for reuse in your own or other company's industrial cycles
Restore: return water to the place from where it was taken (in the same or a better state in which it was found)
Recover: take resources out of wastewater and give them a use (​​biosolids and nutrients, for example)
Carrying out a trade effluent audit to become more efficient
Perhaps you are sold by the idea of circular water management and reusing and recycling water in your business but don't know how to start implementing the process. Carrying out a trade effluent audit can help your business understand how it uses water and identify opportunities for improvement.
Not only will this be environmentally friendly, but it will also show you ways to reduce costs. This is relevant if your business outputs water as you are charged for your effluent discharge, also known as trade effluent.
Trade effluent is liquid waste a business or industry expels into sewers. However, it does not include domestic wastewater from toilets or washing dishes. This discharge contains many harmful substances; thus, it needs to be authorised by the sewage company, which will charge for it (the cost depending on how harmful the substances are).
Paying for trade effluent can cost a company a considerable sum of money—sometimes more than its fresh water usage. Therefore, carrying out a trade effluent audit can help become more efficient and save money. It involves analysing your trade effluent output and pinpointing ways you can make savings. The professional water company carrying out the trade effluent audit will also ensure that your business is being compliant with its effluent discharge.
Identifying opportunities for improvement
The audit will help you understand your trade effluent. Your business processes will also be put under the spotlight to see how you could save money on trade effluent costs.
Common ways of saving money identified in a trade effluent audit include:
Recovering water
Recovering resources in wastewater and turning them into raw material that can be sold instead of discharging the wastewater.
Traditionally, water was recovered after treatment that removed contaminants and pathogens so it could be safely discharged into the environment. However, beneficial elements such as energy, reusable water, fertilisers, biosolids, and nutrients can be extracted from wastewater to improve efficiency.
Adopting a circular economy through resource recovery can transform effluent discharge from a costly service to a value-added service that offers a company financial return. More efficient wastewater management can offer a double value proposition if the money recovered can pay for the operation and maintenance costs. It also makes the water supply more sustainable and can contribute to a company's ESGs.
Recycling water
Recycling grey water to reduce your trade effluent your business outputs.
In most drainage systems, grey water is mixed with more polluted wastewaters and then discharged into sewers. When this happens, the grey water, which is less polluted than other wastewaters, cannot be used for anything else. Also, as it has been mixed with more heavily contaminated water, it will subsequently require more intensive treatment at the wastewater treatment plant. Therefore, both environmentally and from a cost perspective, it makes more sense to keep grey water separate from more heavily polluted wastewater.
Additionally, if this grey water remains unmixed and is recycled, it can be used for toilet flushing, for example. This will improve your business's water efficiency and can also reduce your emissions and costs.
Reducing water use
Reducing the strength of your trade effluent, either by treating it with chemicals or filtering it.
Depending on the composition of the wastewater, it can be treated with chemical and physical processes.
If wastewaters contain water-insoluble substances, they are generally treated through processes such as centrifugal separation, sedimentation, and filtration. Another method that can be used is flotation, where the particles in substances stick to fine air bubbles as a result of adhesive forces. However, mechanically cleaning wastewater before further treatment is important to prevent damage in the subsequent treatment stages.
In chemical wastewater treatment, contaminants that are dissolved in wastewater are forced to separate more easily. During precipitation, a previously dissolved substance is changed into a dissoluble substance, meaning it can be filtered from the liquid. Other ways of removing pollutants include ozone treatments, ion exchange, UV, and flocculation.
Conclusion
A trade effluent audit will show your business ways to save money through employing more efficient practices such as reducing, reusing, and recycling. What's more, an audit might even identify an opportunity to generate a new revenue stream by turning a waste product into a new raw material.
Topics: Wastewater Treatment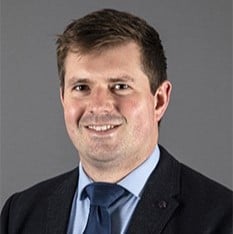 Jon has progressively worked through operational roles, account management, technical management, and senior management roles over the last 16 years within one of the group companies before moving into the role of Water and Air Managing Director. Jon has experience across multiple sectors of water and air compliance, including district energy networks; data centres; healthcare; food and beverage and facilities management. Jon acted as a corresponding steering committee member on CIBSE CP1 – Heat Networks Code of Practice for the UK released in 2020.