Should you use one provider for all safety and compliance?
---
Owners and operators of commercial buildings have a lot to think about regarding safety and compliance. Access to clean water and clean air, ensuring fire safety, and health and safety compliance are just some of the challenges they are preoccupied with.
But what if you had just one company to help you manage it all? Instead of liaising with one expert in each of these areas, what if you could handle all of your regulatory compliance in one place?
Water, air, fire, health & safety - protecting all the elements in your commercial building
Water treatment and water hygiene
Though water that enters our buildings has been cleaned and filtered, it is not always contaminant free. The entire water system is prone to multiple species of bacteria, algae, invertebrates and viruses that can damage human health. Building owners and operators are responsible for treating their water to ensure it is suitable for drinking or industrial use as required. There are specific requirements surrounding Legionella in particular. For example, there are obligations to carry out a Legionella Risk Assessment and follow ACOP L8 compliance that stipulates how to control the risks identified in the risk assessment.
Companies will often rely on a water treatment specialist to help them treat their water and meet these requirements. They will be responsible for all aspects of water treatment, from risk assessment to testing to disinfection to water recycling and reuse. They may also be used to hire specialist equipment, like wastewater treatment units.
Air quality
Air quality has risen up the agenda thanks to Covid-19. The World Health Organisation (WHO) reports that almost 99% of the global population breathes in air that exceeds WHO guidelines and contains high levels of pollutants. In buildings, there are many contaminants to be aware of, such as excess moisture, volatile organic compounds and carbon monoxide.
Poor air quality can negatively impact our health, from eye irritation and coughs to more severe problems such as respiratory disease and cancer.
Current legislation and guidance on air ventilation include:
The Workplace (Health, Safety & Welfare) - Approved code of practice and guidance (L24 second edition 2013) - requires building owners and managers to ensure enclosed workplaces are ventilated with fresh and purified air and that ventilation systems are cleaned regularly.
ACOP 48 - states the introduced air should, as far as possible, be free of any impurity that is likely to be offensive or cause ill health.
ACOP 52 - requires mechanical ventilation systems (e.g. air conditioning systems) should be regularly and adequately cleaned as well as properly tested and maintained.
Air quality management companies provide services such as air quality monitoring, ductwork installation, and cleaning to ensure these legislations and guidelines are met.
Fire safety
Fire safety is a top priority for all building owners and operators to ensure the welfare of staff and visitors. It's also a legal requirement for all commercial buildings to have fire risk assessments carried out and to ensure compliance with the Regulatory Reform (Fire Safety) Order. Usually, one company is enlisted to provide end-to-end fire safety and security solutions. They can cover the installation and maintenance of everything from aspirating systems to kitchen fire suppression systems, emergency lighting, fire alarms and sprinkler systems.
Health, safety and compliance
Health and safety within a commercial building is essential. The Health and Safety Executive (HSE) is responsible for implementing all the rules that keep people safe while at work. Strict penalties are imposed on those who allow, through negligence, accidents to occur. Building owners and operators often seek the specialist expertise of health and safety consultancies to help keep their buildings safe for staff and visitors and comply with the rules. This includes getting them to carry out various assessments for risk management, including for Legionella, air quality and kitchen extracts.
These are all very different challenges. But there is some crossover involved. For example, regular ductwork cleaning is essential to prevent fires in commercial buildings. Managing separate suppliers for these services can be time-consuming and costly. Could you benefit from one single supplier who could handle all of them in one place?
The benefits of having one single provider
There are several benefits to having all safety and compliance managed by one provider. These include:
One key account manager
Having one key account manager to liaise with on all safety and compliance matters can provide numerous advantages. A key account manager acts as the primary point of contact between you and the supplier, allowing them to handle any communication or issues that may arise. They also provide instant access to both customer service and technical support, as well as insights into industry trends.
In addition, having one key account manager simplifies operations by providing a single point of contact for all activities. This helps streamline processes and ensure that everything runs smoothly, reducing overhead costs in the long run.
A key account manager can also foster closer relationships between you and your suppliers by developing a deeper understanding of your unique needs and challenges. By getting to know you better, they can create better solutions tailored specifically for you - improving installation times or providing more competitive prices on specific products and services. In addition, having one dedicated person solely focused on you helps build trust over time, increasing loyalty and commitment from both parties in the long run.
One point of billing
Consolidated billing is one of the main benefits, as it allows you to pay for all your safety and compliance costs in one go instead of dealing with separate accounts and invoices from different providers. This makes the payment process much smoother and simpler, reducing time wasted on manual administration.
Fewer service visits
Combining skills, especially low-level compliance testing, water temperature monitoring, and emergency light testing, particularly on the more remote sites, can be more cost-efficient. Importantly, it will also reduce carbon emissions and contribute to your ESG agenda.
Potential cost savings
You may be able to negotiate better pricing by using multiple services from the same provider. At the same time, suppliers may be inclined to offer more tailored solutions if they have an ongoing partnership with a client rather than competing with other vendors for individual aspects.
Creates a stronger partnership
Having a single supplier relationship also opens up more opportunities for collaboration between both parties. Forming an ongoing relationship with a single supplier means you can benefit from their expertise and experience – which could prove invaluable when companies face new challenges or changes in regulations or technology. You could also benefit from working closely with your supplier's research & development teams to develop customised products tailored to your needs.
Are there any downsides?
"Jack of all trades, master one none" is a phrase we're all familiar with. Is it risky to leave the control of these very specialist areas in the hands of just one provider?
The best scenario is to go with a provider who is a specialist in all areas rather than just an expert in one with other specialisms 'tagged on' the side. When reviewing providers, look at their website, review case studies and ask questions for proof of their expertise and experience in every aspect.
In summary
Choosing the right provider depends on who you feel most comfortable and confident working with. Suppose that provider can appropriately cover all aspects of water treatment, air quality and fire safety. In that case, there are myriad advantages, such as convenience, streamlined processes and even the potential for cost savings.
WCS Group is the water treatment hygiene division of Marlowe PLC, a group which, amongst others, also comprises fire life safety and security, air quality and testing, and health and safety consulting. By leveraging the group expertise, you will have access to all the services you need to ensure your business is safe and compliant with regulations, giving you total peace of mind.
Topics: Company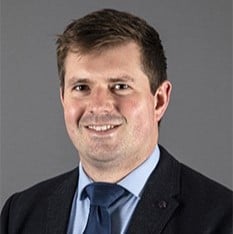 Jon has progressively worked through operational roles, account management, technical management, and senior management roles over the last 16 years within one of the group companies before moving into the role of Water and Air Managing Director. Jon has experience across multiple sectors of water and air compliance, including district energy networks; data centres; healthcare; food and beverage and facilities management. Jon acted as a corresponding steering committee member on CIBSE CP1 – Heat Networks Code of Practice for the UK released in 2020.