How can swimming pools face the challenges of 2023?
---
Leisure centres have been victim of several black swan events over the last few years: Brexit, Covid-19, and the Russia-Ukraine war. Despite having very different causes, each has left an indelible mark on public facilities, particularly swimming pools.
While you can't prevent black swan events, you can implement a plan to address significant challenges, mitigate some of their negative consequences, and ensure your facilities are efficient and futureproof.
Rising costs of energy
The increase in energy costs is probably the biggest worry on everyone's mind in the UK. And while we know the prices have gone up—some businesses have been quoted a 377% increase—we are still unsure how this will affect us over the next year and exactly how much the prices will increase.
Government is currently offering some help for homes, businesses, schools, and charities but seems to be continuously changing what help it is willing to give. However, we are all sure of one thing: prices will increase. And this means it is imperative to address how we use energy in the long term.
Understandably, the current focus is on using as little energy as possible to minimise energy consumption and reduce bills, but this is not a realistic long-term solution. The real answer lies in making processes more efficient rather than using less energy.
For example, to avert the ongoing swimming pool crisis, many leisure centres around the UK have mooted numerous measures, including making swimmers wear wetsuits to endure the cold temperatures as the water cannot be adequately heated. But for how long will adults and children use pools if they have to use neoprene to brave freezing temperatures? The example may seem extreme, but leisure centres are doing everything they can to try and keep their doors open.
There is no quick fix to this problem: the war in Ukraine is unlikely to stop any time soon, and even if it did, energy prices would continue to stay high. However, cheap electricity would still not fix one of the main problems swimming pools face. According to the Local Government Association, at least two-thirds of facilities are past their replacement date, meaning they are highly energy inefficient.
Therefore, to address the issue in the long term, it is necessary to make leisure facilities more energy efficient. Technological fixes such as retrofitting variable speed drives, installing high-efficiency circulation pumps, and fitting regenerative media filters can save huge sums of money and take relatively little time to pay off the investment.
Increased price of chemicals
As a result of the rising cost of energy, swimming pools are also suffering from the increased price of chemicals used to maintain a safe environment for swimmers. To ensure sanitary conditions, chemicals, including chlorine, pH adjusters, and algaecides are used to ensure the pool is hygienic.
While we are at the tail end of the chlorine shortage, chemicals such as this one are now expensive to produce. Chlorine is made through electrolysis, which uses electricity to break down a salt solution into its individual elements. The production of chlorine is energy-intensive because it requires a significant amount of electricity to operate the electrolysis process—yet another problem for leisure centre managers.
Although the cost of producing chlorine will decrease when the UK has a sustainable, renewable supply of energy, this is unlikely to happen any time soon. However, there are several alternatives to buying chlorine from an external manufacturer.
One method involves making the chlorine on-site using brine, and the only chemical needed is salt—which is extremely cheap. Solutions such as the Danish Clean Water (DCW) unit can generate chlorine from salt—killing waterborne bacteria without the use of toxic chemicals. Producing your own chlorine insulates you from future price fluctuations.
Importance of environmental sustainability
The carbon emissions associated with maintaining a swimming pool depend on several factors, including the size of the pool, the efficiency of the pool's heating and filtration systems, and the source of the electricity used to power these systems. However, the emissions associated with operating swimming pools are significant in many UK facilities.
For example, for some councils, leisure facilities account for up to 40% of their overall direct carbon emissions. This is a huge and worrying figure in a world that prioritises environmental sustainability.
Leisure facilities managers and councils are understandably concerned about this heavy carbon footprint, which is yet another thorn in their side. Some councils, including Exeter City, are opting to build new facilities to futureproof themselves: the Passivhaus leisure centre is an example of one such facility. The design decisions made allow it to achieve 50–70% expected savings on annual energy costs, be climate resilient to 2080, and achieve 50% water savings compared to conventional leisure centres. Numbers like these are more likely to make the centre profitable in the future—and swimmers won't have to wear wetsuits.
But while not everyone can build a brand new centre, there are other options, including simple measures such as using pool covers, which can save up to 1500 kWh per year, depending on the building's insulation.
Oxford City Council couldn't afford to build a new pool, but they still have a net zero carbon emissions target by 2030. The Council took several steps, including installing heat pumps to decarbonise several leisure centres, which are expected to achieve a 56% CO2 reduction across and save almost one million kg of carbon dioxide emissions each year.
Pools don't have to close, despite the terrible statistics
Admittedly, the stats are worrying.
40% of council leisure centres and swimming pools could be closed by March 2023
34% of facilities will be at risk by March 2024
100 swimming pools could be closed in the next six months
However, there are options available. Oxford City Council, for example, took advantage of the Public Sector Decarbonisation Scheme, which was designed to reduce emissions from public sector buildings by 75% by 2037, as set out in the 2021 Net Zero and Heat and Buildings strategies. Phase 3 of the Scheme is providing £1.425 billion of grant funding from 2022–2025, and there are multiple application windows.
Salix Finance manages the Public Sector Decarbonisation Scheme, and applicants can visit the Salix website for more information about the scheme. The Public Sector Low Carbon Skills Fund provides grants for public sector bodies to put in place a heat decarbonisation plan, providing them with the information they need to develop future applications to the Public Sector Decarbonisation Scheme.
Innovations that could help the UK with these vital resources
A recent BBC article revealed that the heat generated by a data centre is being used to heat a public swimming pool in Devon.
The 'digital boiler' technology, developed by start-up company Deep Green over the last five years, is relatively straightforward. The washing-machine-sized data centre, installed on-site at the swimming pool, is surrounded by oil to capture the heat. The hot oil is then pumped into a heat exchanger to warm the water in the pool to 30C.
The innovative solution has saved Exmouth Leisure Centre thousands of pounds. Seven other swimming pools in England have since signed up to the scheme. The technology can be installed at any site that needs heat, not just swimming pools.
Conclusion
Three black swan events—Brexit, Covid-10, and the war in Ukraine—have hit swimming pools hard. But they have only worsened existing problems; without these events, it would still be time for renewal. Many pools in the UK were built in the 1960s, and their life expectancy was 38 years—then. It's safe to say that they need some investment. But the good news is that leisure centre managers have many options to retrofit their facilities, make them more energy efficient, and reduce their emissions.
Topics: Swimming Pools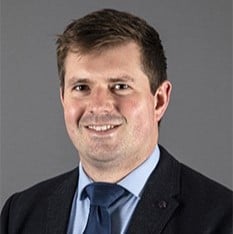 Jon has progressively worked through operational roles, account management, technical management, and senior management roles over the last 16 years within one of the group companies before moving into the role of Water and Air Managing Director. Jon has experience across multiple sectors of water and air compliance, including district energy networks; data centres; healthcare; food and beverage and facilities management. Jon acted as a corresponding steering committee member on CIBSE CP1 – Heat Networks Code of Practice for the UK released in 2020.