Environmentally-friendly, non-polluting water treatment from Denmark
---
WCS Group would like to introduce you to Lars Overgaard from Danish Clean Water (DCW). WCS Group are the distributer of the DCW products in the UK, and we are really interested in his thoughts and experiences, especially on the treatment of water in other countries, specifically in Lars' case, Denmark.
"Of course, you know what is meant by a magnifying glass - one of those round spectacle-glasses that make everything look a hundred times bigger than it is? When anyone takes one of these and holds it to his eye and looks at a drop of water from the pond yonder, he sees above a thousand wonderful creatures that are otherwise never discerned in the water. But there they are, and it is no delusion".

Excerpt from The Drop of Water by Hans Christian Andersen
Denmark: land of Lego, hygge and Hans Christian Andersen (more of him later). And, as the name suggests, Danish Clean Water.
When it comes to water, Denmark punches way above its weight. The lack of lakes and rivers big enough to supply the growing cities with clean surface water meant we had to develop forward-thinking and exciting ways to bring water to people and industries.
We do this by pumping-up groundwater – we now get 100% of our drinking water this way, almost 1000 million m³ per year. We also have a strong focus on water safety and quality.
Because of this, Denmark is often seen as a European water hub: a centre for knowledge, technology, services and solutions.
We believe that DCW is playing its part in continuing this tradition of innovation and excellence with the development of the GENOX Generator System, available in the UK through WCS Group.
Det fungerer bare! ('It just works!")
The GENOX Generator System is an environmentally-friendly, non-polluting water treatment product. Some companies may claim to be eco-friendly, 'greenwashing' their credentials to capture the current zeitgeist, but at DCW the desire to cause as little harm as possible to the world around us forms the basis of our entire water hygiene solution.
In the GENOX electrochemical activation (ECA) unit, a brine solution, created using just simple water and GENOX salt, passes through an electrical current. The liquid created in this process is mostly made of hypochlorous acid (HOCl), a powerful disinfectant that hits hard against pathogens but is 100% safe for humans, animals and plants, chemical-free, non-toxic and all natural. It's actually the same chemical produced by the human immune system to kill invasive organisms and fight infection.
When it is made in the GENOX unit, we call this liquid NEUTHOX®. Although HOCl was being used as long ago as World War I to irrigate soldiers' wounds, it's only recently that technology has allowed it to be produced in a more stable and high-quality formulation.
Beautifully simple (though the technology used to create it isn't), NEUTHOX® is a world away from the traditional, harsh, chlorine dioxide in-water disinfection system. There are no issues around safe storage, no special training or PPE required, no problems with disposal of precursors or by-products.
And the icing on the cake is that it requires minimal ongoing chemical costs, paying for itself in a matter of months.
All this, plus onsite generation 24/7, so it's there when you need it.
It just works.
Wonderful creatures
So, let's come back to the 'wonderful creatures' we opened with. Hans Christian Anderson certainly knew what he was talking about: if you haven't seen photographer David Littschwager's shot of a single drop of seawater magnified 25 times to reveal an entire ecosystem of crab larva, diatoms, bacteria, fish eggs, zooplankton, and even worms, I really recommend you check it out.
Of course, mains water is treated, so when it comes out of the tap, it probably won't contain anything more than very low levels of chlorine and a bit of limescale.
However, in the right environment – a poorly maintained water system, where water is allowed to stagnate at between 20°C and 45°C – harmful bacteria can proliferate in the biofilm that grown on the pipes.
The best known of these is probably Legionella, the bacteria that causes Legionnaires' disease, which spreads in aerosolised water.
These are wonderful creatures that we can certainly do without.
The GENOX Generator System
The GENOX Generator System is a highly effective way to control levels of Legionella and other waterborne bacteria, without the use of dangerous or toxic chemicals. NEUTHOX® destroys the biofilm that protects the bacteria, so it, and the bacteria, can be easily washed away. A residual remains in the water, providing continued protection.
When offered in line with a monitoring and inspection programme from WCS, the GENOX Generator System protects against most of the bacteria that cause infections in humans and animals, such as Legionella pneumophila, Pseudomonas aeruginosa, Vibrio vulnificus, E.coli, Listeria monocytogenes, Salmonella enterica and Campylobacter jejuni. It is extremely flexible, suitable for use across the sectors, including healthcare, hospitality, public buildings, horticulture and farming.
About Danish Clean Water (DCW)
DCW was founded in 2008. We are located in Sønderborg, a coastal town near the German-Danish border. The company is a subsidiary of the huge Danfoss A/S, which has 28,000 employees and sales in over 100 countries. Danfoss has made a massive commitment to what it calls 'sustainable transformation', something that is also at the heart of everything DCW does.
We are always looking at new technology and applications for the GENOX unit. One of the most exciting of these is the use of NEUTHOX® for treating ballast water discharged from boats – watch this space for more information!
Topics: Legionella Control, Water Treatment & Hygiene, Company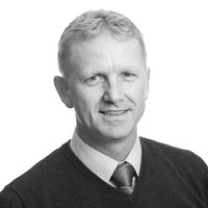 Lars Overgaard is sales director at Danish Clean Water A/S. He has broad experience within the sales and global export of technical products for the B2B market. During his career, Lars has appointed numerous distributors, agents and sales representatives and established several sales offices throughout Europe. Focusing on his insight into regional business culture and needs, he has, through trust and relationship-building, successfully raised sales performance and product visibility.