Disinfection is an important step in ensuring that potable (drinking) water is safe.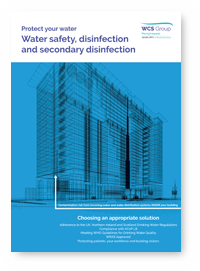 UK water companies are required to meet the EU Drinking Water Directive by disinfecting public water to the point of supply. They have to kill or inactivate disease-causing organisms in the water supply.
Choosing the right water disinfection method or multiple technologies used together, is vital in order to appropriately protect patients, your workforce and building visitors.
Download this eBook to learn more about safeguarding staff, patients, vulnerable people and choosing appropriate disinfection and secondary disinfection technologies.
We compare common disinfection techniques and give recommendations and examples.
To learn more about protecting your water and water system, complete the form and download your copy of our eBook now