Future Water joins WCS Group
---
WCS Group, the water treatment division of Marlowe plc's (parent) Critical Services Group, has acquired Future Water Ltd. The business will be integrated slowly in to WCS Group but brings combined Water Treatment, Hygiene, Compliance and Training to over 330 water specialists and over £22m annualised revenue.
Future Water is a logical bolt-on for WCS Group. Established in 2007, it focusses on water treatment and uncompromising Legionella control and compliance – especially in Hotels, Healthcare and Industrial sectors where WCS Group already operate.
All staff will remain in place and operate from the existing Milford (Derbyshire) site meaning that customers will still be seeing the same faces working through local regional teams on sites they know well.
WCS Group's Water CEO Phil Greenwood said, "Future Water is an excellent fit within the water division, and I am delighted to welcome the team to WCS Group. They have the same highest standards culture and focus on outstanding customer service. They are passionate about water control, efficiencies and uncompromising safety. Going forward, customers will benefit from a larger team, a dedicated engineering and asset improvement resource and local or on-site Legionella training".
Future Water customers will benefit from national coverage, clever technology and a wealth of data which will enhance transparency and enable better decision-making over asset lifecycle and investment. For example, NHS Trust customers will benefit from WCS Group's considerable Water Safety Board participation, expertise and experience. Customers can also access non-water services through sister divisions – Fire & Security and Air Quality (including asbestos removal) – within parent Marlowe plc's Critical Services Group(1,100+ specialist Water, Fire & Security, Air engineers).
Topics: Water Treatment & Hygiene, Company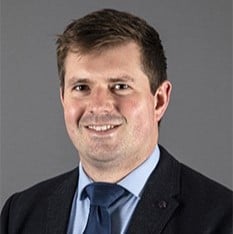 Jon has progressively worked through operational roles, account management, technical management, and senior management roles over the last 16 years within one of the group companies before moving into the role of Water and Air Managing Director. Jon has experience across multiple sectors of water and air compliance, including district energy networks; data centres; healthcare; food and beverage and facilities management. Jon acted as a corresponding steering committee member on CIBSE CP1 – Heat Networks Code of Practice for the UK released in 2020.