Commercial kitchen grease extract cleaning: your responsibilities
---
Kitchen grease extract systems are essential in any commercial kitchen, whether in a restaurant, hotel, school, hospital, or corporate workplace. These systems see a lot of action. Some commercial kitchens may be in use for 8, 16 or even 24 hours per day, creating a great deal of heat, grease and smoke. The role of the kitchen extract system is to clear all this from the air to ensure the overall working quality of the kitchen.
Since kitchen extract systems see a lot of use, grease can build up within the system, causing a major fire risk. Regular cleaning is therefore vital for preventing the risk of fire and maintaining the efficiency of the system.
But what are your responsibilities as an employer or building owner? And how frequently should you carry out kitchen extract cleaning?
Your responsibilities - guidelines and regulations
Most insurers will require you to regularly clean your kitchen extract system. But the responsibility is on the building owner or organisation to make their own risk assessment.
The BESA Fire Risk Management Grease Accumulation within Kitchen Extract Systems (TR19 Grease) is the most up to date best practice guidance for ensuring kitchen extract systems are maintained to minimise the risk of fire associated with grease accumulation.
TR19 is widely accepted within the building services sector and by the UK insurance industry as the standard to which ventilation systems should be cleaned. The guidance exists to help employers and building owners maintain a process for controlling the risk of grease related fires associated with operating commercial kitchen extract systems.
Under the Regulatory Reform (Fire Safety) Order 2005, employers or building owners are also required to carry out and maintain a Fire Risk Assessment of the premises. They will be able to identify potential hazards associated with kitchen extract ventilation, primarily those that are associated with inadequate cleaning programmes.
The risks associated with grease build up
But why is this all so important?
Grease fires can be particularly hazardous. Over time, grease and oil can accumulate inside a kitchen extract system. High temperatures and/or flames can cause these deposits to ignite, causing the fire to spread quickly through the system.
The ductwork can even be heated to such a degree that the surrounding materials can also ignite. This can lead to major property damage in the kitchen (and beyond), significant business interruption, and of course, present a serious health risk to occupants of the building.
So it's no surprise that insurers put a lot of focus on ensuring adequate cleaning is carried out to reduce the risk of fire. Claims may be refused by insurers where compliance with the terms of the insurance policy can't be demonstrated.
As well a being a fire hazard, the accumulation of grease can also impact the efficiency of the system, making it much harder to function properly.
Cleaning frequency - are you getting it right?
This is the big question - how frequently do you need to clean out the accumulated grease and other deposits that have built up in the hood and ductwork?
The answer really depends on how often the kitchen is used.
At the very minimum, all operational grease extract ductwork systems must be cleaned every 12 months. However, most systems will be cleaned more frequently than this. As we know, it really doesn't take long for the extract system to fill up with grease.
It may be that you typically have your kitchen extract cleaned every 6 months. But with the last year being a whirlwind of lockdowns, your usual cleaning routines may be out of sync. Now there's more stability, it's a good time to consider whether you are following best practice.
So, what's recommended?
Low levels of grease:
Low use - every 12 months
Heavy use - every 6 months
Medium levels of grease:
Low use - every 12 months
Moderate use - every 6 months
Heavy use - every 3 months
High levels of grease:
Low use - every 6 months
Moderate use - every 3 months
Heavy use - every 2 months
But it's important to make sure you check your insurance policy, as some may require a higher frequency of cleaning.
Although your staff may clean the visible areas of the ducts on a daily or weekly basis, more comprehensive, deep cleaning is imperative to maintain efficiency and reduce the risk of fire. This calls for trained teams who will have the right tools and experience to get to the hard to reach areas.
Issues can arise with some kitchen grease extract systems regarding access. Some systems may have a riser on the outside of the building that requires specialist access equipment, or even abseiling in order to clean. Other services such as water pipes can prevent access to the ductwork system in order to clean the system. This is where a trained team can ensure adequate cleaning of your system.
Summary
Regular kitchen extract cleaning is essential because grease can build up quickly, presenting a serious fire risk and significantly impacting the efficiency of the system. And not only is regular cleaning required to meet TR19 standards, the most widely accepted standard of ductwork cleaning in the UK, but it is also necessary for insurance. All insurance companies will require proof of cleaning for you to be eligible to make a claim.
So when did you last clean your kitchen grease extract system? Are you adhering to TR19 guidelines and the requirements set out by your insurance companies? Now's the time to check.
WCS Ductclean is the UK's leading ventilation hygiene and compliance specialist. If you're looking for a cleaning service for your kitchen extract system, or want to chat to us about best practice, please get in touch.
Topics: Ventilation Hygiene & Testing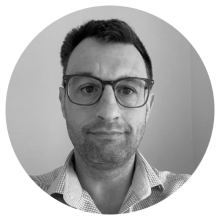 Robert has 20 years of experience in the air and water compliance industry. He has sound technical knowledge of ductwork cleaning, hygiene inspections, fire damper testing, and remedial works. His areas of expertise also include TR/19 regulations and the compliance requirements of BS9999.