The environmental benefits of good water management
---
Historically, waterways were used as waste receptacles. Organisations dumped contaminants in waterways and relied on dilution to reduce levels of noxious substances: asbestos, lead, mercury, nitrates, phosphates, sulphur, and oils. To combat this issue, the UK government introduced stringent controls through legislation, including The Water Industry Act 1991 and The Water Resources Act 1991.
The rest of the world has not been as fortunate. The UN estimates that 80% of the world's wastewater is untreated and dumped into rivers, lakes, and oceans. However, despite the UK's more advanced legislation, raw sewage and contaminants from factories are still legally and illegally dumped in waterways in much higher concentrations than are safe for human and animal health. Research shows that, in 2020, water firms discharged raw sewage into English and Welsh rivers 400,000 times.
Such behaviour is harmful to everyone: Contaminants harm fish, plants, and other animals living in the water. Eating contaminated fish damages human health, and polluted groundwater or irrigation water can destroy crops and poison the food grown on the land.
Industrial water contamination in the UK
Sewage and wastewater result from industrial processes (metals, solvents, and toxic sludge) as well as human activities from on-site offices (sinks, showers, and toilets). Despite regulatory control, data from the Environment Agency shows that wastewater and sewage from industry account for 25% of all severe water incidents in England and Wales.
Recent issues, including Brexit and the national lorry driver shortage, have caused supply chain disruption, meaning that chemicals to treat wastewater may not have not been readily available from all sources. Due to these setbacks and a drive to improve the environment, ever more organisations are searching for better ways to treat wastewater, and there are three excellent reasons to do so:
Complying with increasingly stringent discharge regulations
Re-using and reducing wastewater to combat rising water supply and disposal costs
Becoming environmental leaders
Treating wastewater can significantly reduce your discharge costs. And cleaning it to domestic and industrial standards means you can gain long-term value from waste. It's certainly true that what's good for your pocket is good for your business. But what's good for the environment can also be good for your business.
To read more about the economic advantages of wastewater treatment and water reuse, read this blog, but our focus here is on the environmental benefits of wastewater treatment.
Environmental benefits of wastewater treatment
Treating water to remove damaging elements is beneficial for humans and the environment.
Healthy ecosystems contain a complex balance of interdependent animals, plants, bacteria, and fungi—all of which interact, directly or indirectly, with each other. Removing harmful toxins will allow every link in this chain to thrive, enabling our environment to restore the natural balance that sewage and untreated water destroys.
Treating water before releasing it into our waterways will stop the spread of waterborne pathogens that are dangerous to human health. It will also help prevent the spread of diseases such as gastroenteritis, skin infections, hepatitis, e-coli, and ear, nose, and throat infections, which people catch on our coastal waters. Unfortunately, people swimming in UK waters are still as likely to get sick from untreated water in 2021 as they were in the 1990s. Better water management would also help improve the UK's coastal water quality ranking: we are currently ranked 25th out of 30 countries in Europe, and only 14% of rivers meet good ecological status.
Good water management practice will also help the UK avoid tragedies such as the one in Flint, Michigan. Ageing water infrastructure led to a contamination crisis between 2014 – 2019. Drinking water contaminated with lead was drunk by up to 12,000 children, and Legionella bacteria killed 12 people and affected 87.
What is good water management?
The right water management technique depends on a building's use—a manufacturing plant has different needs from a hospital, for example. However, good water management involves the same two actions for both sites: water optimisation and wastewater treatment to recycle and minimise water.
Water optimisation: creating net-zero water buildings
To design environmentally friendly buildings, the goal must be to create net-zero water buildings where the amount of water used and returned to the original water source equals the building's total water consumption.
This involves both minimising and maximising: we must minimise the building's total water consumption and wastewater discharge and maximise alternative water sources.
The objective of net-zero water is to preserve the quantity and quality of natural water resources, which should remain in excellent condition without being deteriorated, depleted, or rerouted. Alternative water sources and water efficiency measures can be used to minimise the use of freshwater.
The ideal scenario is for all the building's water needs to be supplied by alternative water sources, including:
Treated wastewater
Harvested rainwater
Greywater
Reused water
Air-cooling condensate
Rejected water from water purification systems
All wastewater should be treated on-site (using the wastewater treatment for the recycling process described below) and returned to the original water source.
On-site non-potable water can be taken from treated on-site rainwater and greywater. Wastewater can be treated in the building and returned to the local aquifer. And, to go one step further, potable water can be even taken from harvested rainwater that has been treated.
Wastewater treatment: recycling water for reuse
Wastewater treatment involves four key stages:
Primary treatment
The first stage of the water treatment process separates suspended solids (SS) from wastewater. Then, between 70% and 90% of these materials are removed through flocculation, coagulation, settling, and flotation processes. At this stage, chemical reagents are introduced, depending on the degree of purification required.
Secondary treatment
These advanced biological treatment methods use bacteria to eliminate dissolved pollutants contained in wastewater, including carbon, nitrogen, and phosphorus pollutants. Sometimes, biological treatment methods also use chemical reagents.
Tertiary treatment
This final stage looks to remove any remaining dissolved solids from purified water and disinfected wastewater so the treated water can be reused.
Choosing the right chemicals is also key to controlling odour throughout the process, which can lessen the environmental impact of implementing an on-site recycling solution. To find out your responsibilities on effluent discharge, read our blog.
Sludge treatment
The materials and pollutants removed during treatment become sludge, which has the potential to be commercially reused for:
Heat and power: Using a treatment called anaerobic digestion, the sludge is heated to encourage the bacteria to eat it. This creates biogas that can be turned into heat and used to generate electricity. Alternatively, the sludge can be dried into blocks (or 'cakes') which are then burned to generate heat.
Gas to grid: The biogas can also be cleaned to a higher standard (known as biomethane) and put back into the national grid.
Work with a water specialist
Turning your building into somewhere that does not just comply with environmental legislation but that benefits the environment is not a simple task. It involves using the right machinery, knowing the correct chemical treatments to use, and designing a system that is right for your building and industry.

Partnering with a specialist water treatment company is the most efficient way to discover the best options available that will ensure compliance, save your business money in the long term, and benefit the environment. The right specialist will also be able to provide ongoing support.
Topics: Company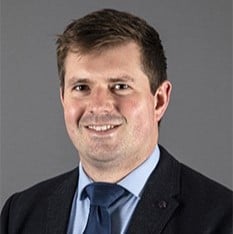 Jon has progressively worked through operational roles, account management, technical management, and senior management roles over the last 16 years within one of the group companies before moving into the role of Water and Air Managing Director. Jon has experience across multiple sectors of water and air compliance, including district energy networks; data centres; healthcare; food and beverage and facilities management. Jon acted as a corresponding steering committee member on CIBSE CP1 – Heat Networks Code of Practice for the UK released in 2020.