Managing the risk of Legionella bacteria in commercial water systems
---
Managing and monitoring a water system to inhibit Legionella is a legal requirement for every business occupying a commercial premise, with any water system susceptible to outbreaks.
So what actions do you need to take to prevent the build up of Legionella bacteria?
The risks of Legionella bacteria
First, let's remind ourselves of what happens when Legionella bacteria builds up in a water system. It can lead to the potentially fatal Legionnaires' disease, a serious form of pneumonia that causes inflammation of the small air sacs in the lungs (alveoli) and their associated tissues.
Legionella bacteria can be found in man-made water systems such as hot and cold water systems, cooling towers and spas as well as natural water sources such as lakes, reservoirs, rivers and streams.
Legionella bacteria thrive in the following conditions:
when water temperatures are between 20-45°C
where nutrients such as rust, sludge, scale, sediment and algae are present
where water is stagnant in the water system (for example, if a shower or tap is not regularly used)
The name Legionnaires' disease comes from the outbreak where it was first identified – in 1976 at a convention of the American Legion in Philadelphia. 29 People, mostly men, died.
Today, Legionnaires' disease still presents a serious risk to people. In the UK the most recent outbreak was in September 2020, with health officials confirming three cases and six possible cases in West Bromwich. Three cases were also confirmed at a mental health clinic in Redhill in February of the same year. And these are just outbreaks in the UK.
Legionella control regulations
Due to the seriousness of the disease and its preventability, governments across the globe have introduced legislation around Legionella control to govern the management of water systems. In the UK it is the legal duty of anyone responsible for a water system to undertake a Legionella risk assessment and address any issues identified.
The following health and safety legislation applies:
The last document in the list above has been developed to help business owners and landlords conform to the legislation and carry out its requirements. It is an Approved Code of Practice (ACoP) with the current edition being L8 (Fourth Edition) published in 2013. It is commonly referred to by the shortened acronym, ACOP L8 and is available to buy as a book or download as a PDF for free from the Health and Safety Executive website.
Legionella control in hospitals and healthcare facilities
By their very nature, hospitals and healthcare facilities have more vulnerable members of the public either on-site or visiting. At-risk groups include people who are suffering from chronic respiratory or kidney disease, people who suffer from diabetes, lung and heart disease, or anyone with an impaired immune system.
For this reason, the regulations regarding Legionella control in hospitals and healthcare facilities are more stringent. There have been several cases where patients have died after contracting Legionnaires' disease whilst in care at a facility where management of the risk was lax.
For these reasons, the healthcare sector should follow the Department of Health's guidance: "Safe water in healthcare premises (HTM 04-01)" on Legionella control.
These legal obligations cannot be avoided, but the tasks can be outsourced. This is actually the most common route as Legionella risk assessments need to be undertaken by competent, fully-trained assessors. It's unlikely the average building or facilities manager will have the time or budget to become qualified in this specialist area, where clear and professional compliance needs to be demonstrated.
Legionella risk assessments and outcomes
Any system that might pose a risk should be subjected to a Legionella risk assessment. According to HSG 274, critical systems to assess are evaporative cooling systems and hot and cold water systems, along with any other water system that might produce airborne water droplets.
The first area to look at is the system's infrastructure, with an inspection of obsolete pipework (dead ends) or dead legs such as plumbing to unused or seldom-used taps where water could stagnate and lead to the growth of Legionella bacteria. Where these have been identified, action should be taken to flush or (ideally) remove these water traps.
Where pipework or equipment joins is another area of risk - natural rubber, hemp, linseed oil-based jointing compounds and fibre washers have all been identified as potential breeding grounds for bacteria. If any of these are present, they should be replaced with suitable alternatives.
Ethylene Propylene Diene Monomer (EPDM) rubber can support the growth of Legionella microorganisms, so any flexible hoses made from EPDM should be replaced with safer alternatives. In theory, hoses made of EPDM should never be used in healthcare environments, although they are often found elsewhere.
All elements of the system should be inspected for corrosion, scale, sediment and biofouling (the accumulation of microorganisms, plants, algae, or small animals on wetted surfaces that have a mechanical function, causing structural or other functional deficiencies). Assets to be inspected would typically include cold storage tanks, calorifiers (hot water heaters) and evaporative cooling systems. If signs of any of these four are found – all potential factors in Legionella risk – then remedial action should be taken including cleaning and disinfection.
Legionella prevention
The legislation dictates that whoever is carrying out the Legionella risk assessment should be a competent individual with a full understanding of the relevant Codes of Practice and as such, the assessment should not be assigned to an under-qualified individual. In practice, this means that risk assessments are carried out by an experienced water treatment provider to ensure full compliance with the relevant legislation and a safe water system.
As every water system is different, it's important to find a provider who can tailor-make their services to fit your situation by offering a bespoke risk assessment and risk management solution to suit your specific business and its individual requirements.
Legionella prevention should be a key priority for anyone responsible for the water systems of any building or facility. Effective Legionella control that complies with the UK regulations can be achieved by working with an experienced and qualified risk assessor from a water treatment provider, giving you peace of mind and safeguarding your business, your people and your customers.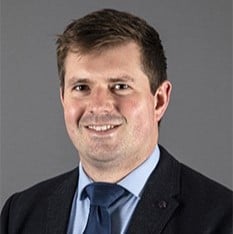 Jon has progressively worked through operational roles, account management, technical management, and senior management roles over the last 16 years within one of the group companies before moving into the role of Water and Air Managing Director. Jon has experience across multiple sectors of water and air compliance, including district energy networks; data centres; healthcare; food and beverage and facilities management. Jon acted as a corresponding steering committee member on CIBSE CP1 – Heat Networks Code of Practice for the UK released in 2020.