Outstanding water treatment, water purification, waste water treatment, system control and improvement for commercial buildings and Facility Management companies.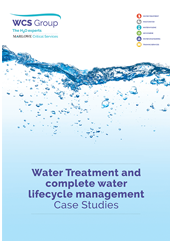 WCS Group maintains one of the largest water treatment teams in the UK with proven systems and practices improving water quality, water purification, water re-use and waste management, risk management and data visibility for tangible results.
We manage the whole water lifecycle from pre-water treatment to re-use and effluent water treatment and environmental discharge. Separate downloads are available for water engineering (incorporating waste water) and water hygiene.
Water treatment case studies have been categorised by:
Compliance
Risk & environment
Plant efficiency
Infection control
HSE improvement
Legionella
Cost savings
Complete the form and download your copy now