---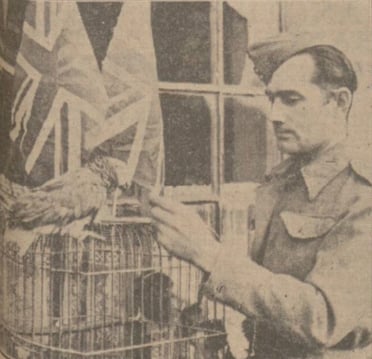 Lionel was born April 21st 1913, in Foleshill, Warwickshire to parents John (a Miner at a local Colliery) and Amelia Barber. He was baptised at the Longford Parish Church on June 1st 1913, with the baptism record giving his family abode as Longford Road. Lionel would later attend the Longford Church School. As a young adolescent he would go on to gain employment at the Longford Cement Company.
By the outbreak of World War Two, Lionel was now living with his parents at 292 Bedworth Road, Coventry, and had been working at the Longford Cement Works for twelve years. In 1940, Lionel enlisted in the forces, and by 1942 found himself serving with the R.A.S.C. as a driver in Libya.
Lionel's Mother Mrs Barber would be notified that her son had been reported missing since June 20th 1942; she would later be informed that he was now an Italian Prisoner Of War, being captured during 'The Second Battle of Tobruk'. Over the next twenty seven months, Lionel spent his time in the Italian P.O.W. Camps in Italy before being transferred to a camp in Germany.

Then in mid-September in 1944, Lionel's family were notified that he was to be released from the P.O.W. Camp in Germany and repatriated to the UK. On Thursday September 22nd 1944, Lionel returned home to 292 Bedworth Road, Longford and upon his arrival, he found his pet, 'Polly' a thirty year old Parrot, waiting for him. 'Polly' was perched on her cage outside the front door of 292, and she greeted her master with evident delight. Her cage was decorated with the Union Jack, like the windows of houses on either side of the road. Over the door was written 'Welcome'.

Sadly, ever since Lionel had returned home, he had been unwell, and on December 24th 1945, Lionel passed away. His funeral took place Saturday 29th December 1945, attended by his parents, siblings and several of his friends. The service took place at the Longford Parish Church, the coffin was draped with the Union Jack, and was borne into the church by eight Privates of the Army in the charge of the Army Corporal. The internment took place at Windmill Road cemetery in Longford, Coventry.

A year later, published in the December 24th 1946 edition of the Coventry Evening Telegraph, were several messages in memorial for Lionel, including the following poignant poem from his parents:

"With tears we watched you suffer, dear; we watched you fade away; we tended you with loving care, but could not make you stay."
---