Second World War - Maurice Edward Merrifield M.C.
---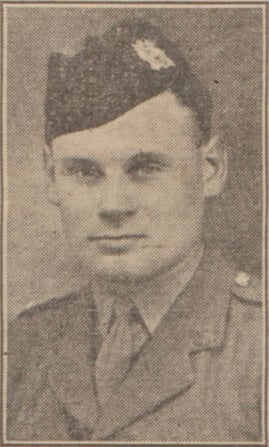 Maurice Edward Merrifield, the son of Mr and Mrs Edward Merrifield, late of Palmerston Road, Coventry, was a Junior Chorister at Coventry Cathedral and a member of St Barbara's Junior Parochial Church Council. Maurice also attended Bablake School and later became well known in business circles in Coventry, Newcastle and Glasgow.
On the 28th October 1939, at Ryton Holy Parish Church, Tyne and Wear, Maurice married Elizabeth Altringham of Ascog Villa, Ryton. Given away by her father, the bride wore a classical cut gown of midnight blue velvet, with a hat to match. The bridesmaids were her sisters Misses Maude and Isobel Altringham and the best man was Mr Jack Hales, of Tynemouth.
In 1944, the now Major Maurice Merrifield was awarded the Military Cross in recognition of his bravery whilst serving with the Highland Light Infantry (City of Glasgow Regiment), during an attack on Hervieux, France, in July of 1944. The citation which accompanied the announcement of Major Merrifield's award said that, during the advance on a French village "Major Merrifield, with complete disregard to his own personal safety, went forward alone to make a personal reconnaissance to pin-point the enemy positions. Having done so he personally directed the fire of his own supporting weapons with such accuracy that not only was he able to push on at great speed but it helped those who were fighting nearby".
Later, when he was unable to make contact with the supporting artillery, he again used his own fire with such speed and accuracy that a machine-gun post was silenced. He then went forward with the leading platoon to mop up. "His personal example was an inspiration to all ranks", added the citation. Maurice was awarded the Military Cross by Field Marshal Montgomery.
Sadly three weeks after returning from leave, Maurice was killed in action in Germany, on 8th February 1945. He is remembered at Reichswald Forest War Cemetery, Plot 58, Row H, Grave 16 in the Nordrhein-Westfalen Region in Germany. Major Maurice Edward Merrifield M.C. was 31 years of age.
---