First World War - Walter Tidman
---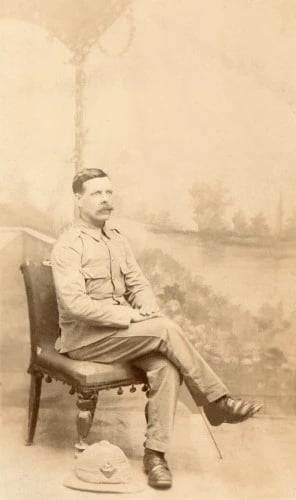 In the summer of 1873, in Shilton, Warwickshire, Richard and Ann Rebecca Tidman welcomed the birth of their son Walter. It would also be in Shilton, at the local parish church, that Walter would be baptised on August 17th 1873. The record gives his father Richard's occupation as a labourer. The next two census show Walter along with his parents and siblings, first living at Coventry & Hinckley Road, Ansty, Foleshill in 1881 and then in 1891 in Combefields, Rugby. The 1891 census gives Walter and Richard's occupation as Agricultural Labourers.

On April 3rd 1899, at the Brinklow Parish Church, Walter married Emma Priscilla Wolfe in a Church of England ceremony. Both Walter and Emma's residence is given as Brinklow, and Walter's occupation is now given as a Miner. Their first census together is the 1901 census, Walter and Emma are living at Sowe Waste, Sowe, Foleshill. They now also have a one-year-old son called Edwin.
By the 1911 census, Walter is still working as a miner at the Wyken Colliery, and living with his wife and son in Walsgrave-on-Sowe near Coventry. Walter and Emma had also had two other children since the birth of Edwin, but both had sadly died as infants. Over the next several years the Electoral Registers, and later the Absent Voters List give the families abode as Woodway Lane, Walsgrave-on-Sowe.
In 1915, Walter enlisted in the Royal Warwickshire Regiment, 9th Battalion. His Medal Index Card gives his first Theatre of War in which he served as 2B/Balkan (Gallipoli), and the date of entry was November 25th 1915. A report in the November 1st & 2nd 1918 edition of the Coventry Herald Newspaper, stated that by this point, Walter "had experienced three years of active service in various war zones", his son Edwin was also serving and had been in France for eight months with the Oxford and Buckinghamshire Light Infantry Regiment. Sadly in the same article, it was reported that not only had Edwin been wounded and hospitalised for the second time having been "Gassed" some time previously, but also that Walter had died on September 26th 1918, of Pneumonia in Mesopotamia at the age of 45.
Walter was interred at Tehran War Cemetery in Iran, grave reference III. A. 16. His headstone has the following message:
"God be with you - Till we meet again - R.I.P."
In 1921, opposite Walters local Church of St Mary's in Walsgrave, Coventry, on the corner of Hinckley Road and Hall Lane, a War Memorial was erected, an 18ft stone cross costing £181. Along with the name of Walter and several other soldiers, the war memorial also has the following related inscription: "1914-1918 Remember the Men of this parish who died in the Great War R.I.P."
The names on the memorial are also on a small wooden memorial in St Mary's Church itself.
---