First World War - Sergeant John Peck
---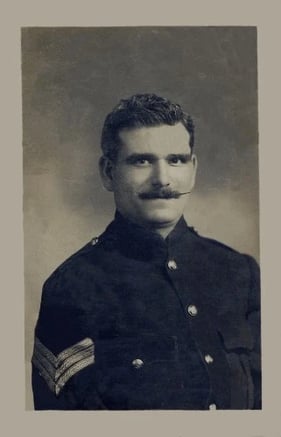 John was born December 26th 1884, in Beverley, Yorkshire to parents Alfred William and Jane Elizabeth Peck, and it was here in Beverley at St Nicholas Church that he was baptised on January 25th 1885. John would grow up living with his family primarily at the address 88 Wassand Street, Hull, Yorkshire.
Then on May 22nd 1905, at St Barnabas Church in Hull, John married Edith Maria Booth. John's occupation on the marriage record is the same as his father, that of an engineer. Edith's father George was a Signalman.

John enlisted in the 5th Battalion, Lincolnshire Regiment Territorials on May 26th 1909, in Barton-on-Humber. At the time of his enlistment, he was employed by F. Hopper & Co. Cycle Manufacturers as a filer, he was now living with his family at 14 Dam Road, Barton-on-Humber. He completed his training at Garendon Park where he would later be promoted to Lance-Corporal on February 1st 1912. John re-engaged for 4 more years with the Territorials on March 20th 1913, and shortly after on April 1st 1913, he was promoted to the rank of Corporal. He then on May 5th 1914, transferred from the 5th Lincolnshire Regiment "E Coy" to the 7th Battalion Royal Warwickshire Regiment.
On August 5th 1914, John was again promoted to the rank of Sergeant. He would later be posted to the 81st Provisional Battalion, and was still a part of the battalion when it became the 18th Battalion Royal Warwickshire Regiment Territorial Force on January 1st 1917. John's army records show that on May 26th 1917 at Ipswich (Blackheath), he was injured when a Mills Grenade exploded prematurely, this caused a wound to his left eye which would leave him blind in that eye. He was training recruits at the time when the grenade went off, killing the recruit holding the device and injuring John, who would wear a glass eye for the remainder of his life.
In November 1917, John transferred to the 2/6th Battalion Liverpool Regiment, before transferring again in January 1918, to the Kings Royal Rifle Corps, being posted to the 32nd Battalion London Regiment. His final regiment was the Royal Fusiliers 30th Battalion London Regiment, who he was serving with when he was discharged on February 14th 1919, due to being unfit for service. His rank on discharge was Sergeant. John's army pension record shows he was in 1919 now living at 8 Valley Road, Stoke Heath, Coventry.
By the 1931 electoral register John, Edith and two of their children were shown to still be living at 8 Valley Road, but by the 1939 register they had moved to 30 Heath Crescent. John was working as a House to House Canvasser for Watkins and also as a A.R.P. Controller.
John's death was registered in the third quarter of 1941 in Blackpool, Lancashire, he was 57 years of age. He passed away at Victoria Hospital in Blackpool after he became unwell whilst visiting his son Alfred Peck who was serving in the R.A.F. at the time. His burial took place September 20th 1941, at London Road Cemetery, in Coventry. John was survived by his wife Edith and their six children Elsie, Edith, Alfred, Evelyn, Dorothy and Eileen.
---