First World War - Reginald George Pridmore
---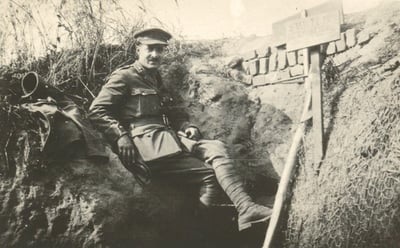 Reginald George Pridmore was born on the 29th April 1886 in Edgbaston Birmingham, the eldest of three children to George William and Sarah Louisa nee Bailey. In the 1891 census he was living with his parents and two-year-old sister at 86 Railway Terrace, Rugby.
By 1901 his parents were living in Watford with two daughters, Madge (12) and Constance (8), while Reginald was a pupil at Bedford County School. He was then educated at Bedford Grammar, where he was a very keen sportsman, playing Hockey, Cricket and Tennis.
Reginald later played Hockey for England, winning a Gold medal at the 1908 Olympics in London, where in the final he scored four goals which stood as a record for 44 years until being broken at the 1952 Helsinki Olympics, where India's Balbir Singh Sr scored 5 goals in India's 6-1 win over the Netherlands. Reg also played cricket for Warwickshire County Cricket club on fourteen occasions as a middle-order batsman. In the 1911 census, it states he was an Artistic Metal Worker; the business his father ran in Coventry.
From his officer records in Kew, he applied for a commission in the Warwickshire Territorial Force Association on 14th September 1914, in the 4th South Midland Howitzer Brigade. He was residing at 1 Lansdown Place in Coventry, and his occupation was given as stockbroker. On the form, it states he had applied for a temporary commission in the regular army but had not been gazetted to date (this was dated 14th August 1914), and he had been for three years in Elstow School Bedford O.T.C. (officer training corps). Also in the papers, it states that Elstow school was previously known as Bedford County School. The papers stated that he was attached to the 5th Rugby Battery off the 243 brigade which became D Howitzer Battery of 241 brigade on the 18th May 1916.
Reginald George Pridmore became Second Lieutenant on 17th September 1914 and from the records of the R.F.A. that he disembarked from England on the 30th March 1915.
He was awarded the Military Cross for conspicuous gallantry during operations as a Forward Observations officer having displayed great coolness under fire. In a letter to his father, he modestly wrote "I have been awarded the Military Cross. I know you will be glad, and that makes me pleased, but there is no doubt it is sheer luck, as everybody here does his job to the best of his ability". On one occasion he and his lookout man were partly buried during heavy shelling but carried on sending reports. This is believed to be on the 20th October 1916.
Whilst in France, orders were given and the brigade moved to Italy to carry on fitting there. In the supplements to the London Gazette from the 19th March, we learn that on 20th Jan 1917, 2nd Lt (Temp Lt) R.G.Pridmore M.C. became acting Capt. From the same publication dated 29th June 1917, 2nd Lt (actg. Capt.) R.G. Pridmore M.C. was to retain the acting rank of Capt.
On the 13th March 1918 Reginald George Pridmore sadly died in Italy. He is remembered with honour at Giavera British Cemetery in Italy, Plot 1, Row D. Grave 5.
His late Battery Commander wrote (Rugby Advertiser 30th March 1918): "He was killed by a direct hit on his position, where he had remained to telephone after sending all his men into safety. As his Commanding Officer for 3 1/2 years, I have never met a more gallant officer or a more cheery companion. In times of stress, his unfailing good spirits and total disregard of danger inspired me to carry on and set us all a grand example. He was buried 10 miles from here with full military honours, and there were present the general of the Division, the C.R.A. and every senior officer in the Division who could possibly attend; also 100 N.C.O's and men of the Rugby Howitzer Battery.b"
When he died his comrades added an inscription on his wooden cross which read: "A Most Gallant Sportsman and Comrade"
---