First World War - Private Alfred Hutt
---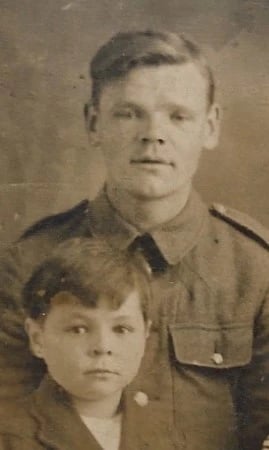 Alfred was born at the start of 1891 in Coventry, Warwickshire, to parents Samuel and Jane Hutt, being baptised at Holy Trinity Church on December 29th 1891. The next two census have Alfred living with his parents and several siblings, living first at New Buildings in 1891 and then Jordan Well in 1901, both in Coventry city centre.

On September 3rd 1910, at St Peter's Church Alfred married Priscilla Peabody, both were 19 years of age and living at 5 Ivy Terrace, Leigh Street, Alfred's occupation is given as a Spinner (of Silk). By the birth of their first child Albert George (b. June 18th 1911) they were now living at 31 Sparkbrook Street, Coventry. The birth of their second child Elsie May came on August 18th 1914, and her St Peter's Church baptism record from September 10th 1914, shows the family are now living at 2 House 2 Court, Castle Street, Alfred's occupation on the baptism record is given as "Private in the British Army".
Alfred enlisted in the British Army (Royal Warwickshire Regiment) on September 18th 1914 in Coventry. His age is given as 23 years 240 days, and his occupation is as a "Fitter". Alfred was posted to the 9th Battalion, R.W.R. on September 16th 1914, before being discharged under K.R. Para 39 (meaning he was not likely to become an efficient soldier), 8 days later on September 24th 1914.
Alfred and Priscilla had their third and last child together in December 1915. Her name was Priscilla and her baptism took place December 8th 1915 at St Marks Church. The family abode is given as 20 Howard Street, Coventry, and Alfred is back working as a "Fitter".
Sadly baby Priscilla would pass away in February 1916, with her burial taking place at London Road Cemetery, in Coventry on February 14th 1916. Alfred would end up re-enlisting in the army with the 2nd Battalion Dorsetshire Regiment before being transferred to the Labour Corps, 650th Coy. Tragedy was to strike the household again when Alfred died November 27th 1918, aged 27 years at Devonport Military Hospital, Plymouth, from Influenza & Pneumonia.
Alfred was interred at London Road Cemetery, Coventry on December 3rd 1918, he was survived by his wife Priscilla and their two children Albert George & Elsie May.
Priscilla would remarry in 1919, to Henry Preston Reynolds Elkington and they would go on to have two children of their own, William and John Elkington.
Alfred's older brother Arthur was awarded the Victoria Cross in World War One.
In the photograph: Alfred pictured with his young son Albert George.
---