Falklands War – HMS Coventry
---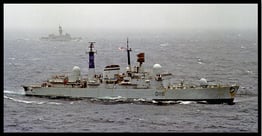 The name Coventry is indelibly linked with the Falklands Campaign, rather unusually, not due to the involvement of individuals or a locally raised regiment, but rather the tragic fate of a Royal Navy Destroyer, which today rests at the bottom of the South Atlantic Ocean.
Commissioned in November 1978, the Type 42 Destroyer was state-of-the-art when first entered into service in 1972, but by the time of the Falklands Campaign a decade later, a number of shortcomings, including limited anti-aircraft defence, had been detected.
Arriving in the area of the Falklands in April 1982, Coventry and her crew performed well, claiming several Argentinian aircraft shot down by her 'Sea Dart' Missile system. A month later, Coventry was given the difficult task of acting as a target for Argentinian Aircraft in Falkland Sound, in the hope of drawing attention away from Operations in the crucial San Carlos Harbour.
Over the course of a few hours, Coventry and HMS Broadsword were repeatedly attacked by Argentine Skyhawk aircraft, with Coventry eventually being struck by three bombs, two of which exploded, causing tremendous damage on board. She immediately took on a list and twenty-minutes later capsized and sank. Of her 287 crew, nineteen seamen were killed and thirty wounded.
Also on board HMS Coventry at the time of her sinking was a 'Cross of Nails', made from the remains of City's medieval cathedral roof, which itself was destroyed by a WW2 German bombing raid, and presented to the ship's crew on behalf of the people of Coventry upon her commission. Royal Navy divers later recovered the cross from the ship's wreck and returned it to the Cathedral, who eventually presented it to the new HMS Coventry, a Type 22 Frigate which was commissioned in 1988. ¹ ²
¹ Image Source: hmscoventry.co.uk – no copyright cleared
² General References: https://www.archbishopofcanterbury.org/priorities/reconciliation/cross-nails,
https://web.archive.org/web/20120930073019/http://www.mod.uk/NR/rdonlyres/F5811078-B4DB-42B9-8D3E-47BFB86D4B50/0/boi_hms_coventry.pdf,
https://www.hmscoventry.co.uk/d118/history/, (all accessed November 2021)
---
Topics: Post WW2 Service and Sacrifice