Powerful advances in water technology that improve water management
---
Efficient water management has never been more vital. A burgeoning population, scarcer resources, and climate change are creating problems that require technological solutions. Digitalisation and innovation of traditional processes can make water management more efficient, economical, and sustainable. We are moving towards the next generation of water management—embracing change and applying smarter technologies.
1. Internet of things (IoT) in water management
IoT is a system of internet-connected, data-gathering devices that can be used to inform future decisions. When employed in water management, IoT can help on many levels; for example, leaks in systems can be detected more quickly, operators can be informed of issues promptly, and systems can be made more efficient.
Everyone can benefit from water management IoT technology—from private businesses to public utility companies to the general public.
How can IoT help address wastewater overflow?
Recently, the news has been awash with stories of untreated sewage being discharged from storm overflows. Climate change has caused more regular flooding in the UK, increasing the frequency of untreated sewage overflows. This can be devastating to human health, the environment, and biodiversity.
Effectively managing water is paramount. Local water companies already use excellent wastewater equipment; however, they need better, real-time data to help proactively handle wastewater processes, including monitoring capacity and reducing spillages.
IoT is an excellent solution for wastewater treatment facilities to manage sewers and prevent overfills. The devices use end nodes to collect data, which are then sent to a computer to be analysed.
The type of data collected could reveal sewage water levels or the pressure at which the water is flowing. Using this information, it is easy to monitor the amount of wastewater flowing through sewers—and prevent an overflow before it becomes a problem.
IoT smart water meters and sensors
Many households use water meters, showing how much water they consume. However, internet-connected smart meters provide customers with real-time data on a mobile device or computer, demonstrating how much water is being used compared to the average (in a city or area).
The devices can also provide alerts if there are leaks in the system, helping to reduce costs by preventing damages.
Facilities that install smart water sensors will also be able to address small issues before they turn into big problems. Sensors are now cheaper and easier to install. They can provide data on points such as water consumption, quality, and pressure, allowing companies to detect problems within their buildings.
Remote monitoring and control using IoT technology
Monitoring has traditionally been carried out manually; however, the industry can now use IoT-connected, networked technology to remotely monitor systems and control facilities.
Operators can check a system or any part of the facility remotely. And when they understand the situation, they can decide the best course of action through remote process control.
Manual maintenance of systems is no longer necessary, which reduces operational costs as workers only have to be sent when necessary to complete tasks about which they already have information.
Remote monitoring and control can be used for one site, or several sites can be assessed simultaneously using cloud monitoring control.
Of course, the initial cost of implementing IoT technology to monitor and control facilities remotely is significant; however, many long-term benefits can justify the investment.
Remotely access real-time data 24/7
Ensure compliance and reduce risk
Reduce energy, water, and chemical consumption
Targeted maintenance when required
2. Big data analytics for water sustainability
Water—our most vital resource—is becoming scarcer. Companies need more of it whilst reducing their carbon footprint, so they are turning to big data and cloud technologies to make their operations more sustainable.
Every company is trying to reduce emissions, and by using real-time big data analysis, water companies can measure their energy consumption, forecast usage over time, optimise their use, and reduce consumption.
But for a meaningful and effective ESG strategy, water management companies must also ensure that their energy comes from renewable resources. Big data and cloud technologies also allow companies to review where their power comes from. Consequently, they can select environmentally friendly energy sources and shun energy from highly polluting sources. When large companies choose green energy, this sets a precedent and nudges energy companies towards renewables.
Lost water is another contributing factor to emissions—reducing the amount of non-revenue water will lower the amount of operational energy required. Water companies that undergo a digital transformation can gather data on the health of their network, which will reveal operational inefficiencies, issues that require immediate repair, and predictions for future repairs—all of which will reduce non-revenue water.
One last key issue for water companies striving for sustainability is complete supply chain visibility. Big data is particularly useful for companies wanting to refine decisions around purchasing and planning. Gathering end-to-end data for increased supply chain insight allows water companies to work collectively with suppliers to reduce their carbon footprint and implement innovative ideas. This collaboration will also promote social responsibility and reduce waste across the supply chain.
3. New water treatment technologies
IoT and AI technology greatly contribute to improving water management; however, new water technology for water treatment is also improving water management.
Wastewater processing is under stress across the UK—too much untreated wastewater is being discharged into bodies of water. However, innovative water technologies, including nanocatalyst reactors eliminating toxic micropollutants from wastewater and algae-based wastewater treatment, help different industries treat wastewater. Solar irradiation is another new technology that can absorb contaminants from wastewater and then promote microbial decomposition.
Water filtration is critical due to the ever-increasing lack of drinking water. However, new technologies such as nanotechnology and biological filtration are providing creative solutions to help provide safe drinking water. Self-cleaning filtration systems also help to filter water at a cheaper cost using less energy.
Conclusion
Advances in water technology are positively affecting the water management industry. Developments in engineering, IoT technology, and Artificial Intelligence are helping companies become more competitive, efficient, safe, and sustainable.
Topics: Wastewater Treatment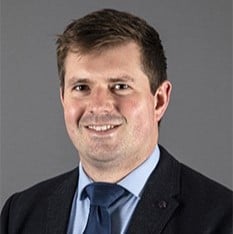 Jon has progressively worked through operational roles, account management, technical management, and senior management roles over the last 16 years within one of the group companies before moving into the role of Water and Air Managing Director. Jon has experience across multiple sectors of water and air compliance, including district energy networks; data centres; healthcare; food and beverage and facilities management. Jon acted as a corresponding steering committee member on CIBSE CP1 – Heat Networks Code of Practice for the UK released in 2020.